Make your House SHOW like a SHOW Home
(
April 29, 2016
, posted in Home Presentation
)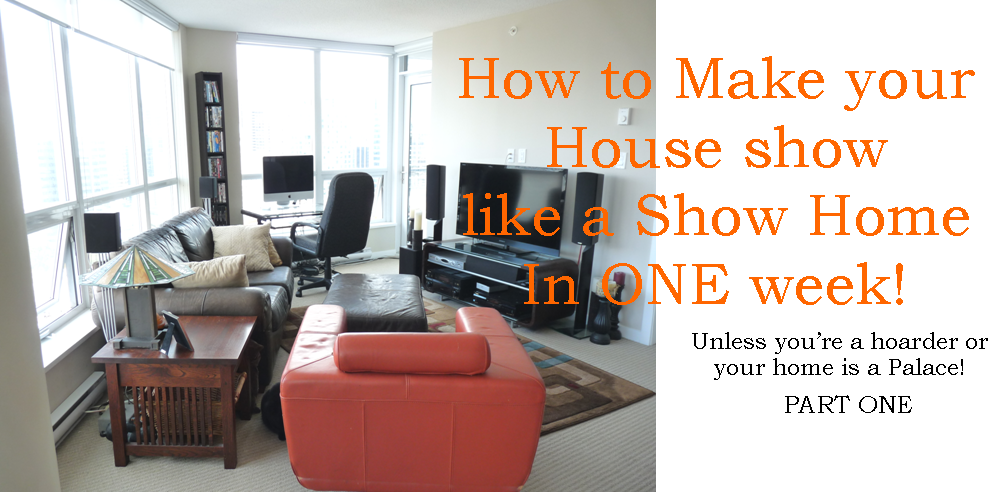 Staging in a seller's market is still a great plan. Even though homes seem to be flying off the market, making your home show ready can make the difference between multiple offers above asking and an offer less than asking. Also when that offer comes in and the buyers want to move in next month, you'll be half packed. The living room above looked OK when I first saw it but unless you were in the room, you wouldn't be able to see the dust nor smell that "lived in" scent. No malicious odors, but not clean either. It could benefit from a bit of de-cluttering but not much and the room needed to return to a living space without the office in the corner. We sorted, packed, cleaned and styled. See Part Two for the "after" shot. (May 6th under Home Presentation)
There are 3 stages you must go through to get the end result you want: 
1. Sorting & Packing—2 days 
2. Repairing & Painting—3 days 
3. Cleaning & Styling—2 days
Most people think that staging involves taking lots of stuff away and putting some pretty things out on display. The TRUTH? Staging a home is plain hard work—READY?


1. SORTING & PACKING

Preparation—Go get lots of packing boxes, packing tape, painter's green tape, wrapping paper or newspaper, a black felt pen marker, some stick-on mailing labels and a package of large plastic bags. As you pack boxes, write on two labels, your name, contents, and what room it came out of. Stick the label on two sides of the boxes, NOT the top. 




I recommend you do this in 5 parts:  

       

A. Speed Purge

—Quickly go through your closets, your bathroom and kitchen cupboards, your storage room and anywhere stuff has accumulated and get rid of anything you know immediately you don't want to take with you. Sort into donate and garbage bags. Throw the garbage bags outside. 

     

B. Art, Pictures, Display items, Knick-knacks, Plants

—Go through all the these items and put aside anything you think might be good to display in your home for potential buyers. As you go through these items, notice holes in the wall, baseboards missing, any small repair jobs that need to be done. Tear off some green painter's tape and tape it on or near the repair job. Don't worry about fixing them yet.  Personal pictures get packed except for 1 or 2 to put in an inconspicuous place. Anything that is very personal such as your sword collection, taxidermy trophies, posters, religious icons, or large collections should be sorted and packed for your new home. Live plants that are "sick" should be given to a plant doctor friend or thrown out. If you have a large collection of plants, have a give away plant party and keep just your 5 favourites. Fake plants must be packed, donated or put in the garbage. 

     

C. Kitchen cupboards, Closets, Toy areas

—Spend 1 hour in each room. In the

kitchen

, pack what you want to keep but will probably not use in the next 6 months. Start a file folder of all appliance warranties, information booklets, etc. and put in a drawer. In your

closets

, pack your off-season clothing, footwear, handbags, scarves, etc. and make sure the closet does not look crowded. It doesn't have to look perfect, but it must look organized. TIP—hangers hanging the same direction will make it look much more organized.

Toys

 can be packed with our without your child's input depending on the age and stage and the child. Every parent knows the top 3 toys their children play with consistently and these should not be packed. The rest need to be sorted, donated and then packed for the new house.

     

D.

 

Workshops, Offices

—If you're a "tool" person, a wood-working person or a mechanic with a lot of machinery, you'll need to make your space at least look neat and tidy. Stack lumber, clean up the grease and make sure buyers see an organized work space. In your

office

, pack all files except what you need for the current year and label boxes. Now is NOT the time to go through all the files. When you arrive at your new house, sort while you're putting things back into your filing system. Put current items you need to keep handy into a portable accordion file box. 

     

E. Furniture

—

Living room

: Couch, Loveseat and occasional chair, 2 end tables, 1 coffee table and 2 lamps, 1 rug if needed.

Master Bedroom:

Bed, 2 night stands, 1 dresser, 2 lamps.

Dining Room:

1 table and chairs according to the size of your dining room. One hutch is OK but only if it doesn't look crowded. If it does look crowded and the top unit is removable, remove, store it and pack up the contents. Packed boxes can be stored neatly in the garage or rent a storage container or space.




Next steps are in Part 2...hang in there. It's just about finished and you'll LOVE living in your house again!   

Categories
Archives

Subscribe To This Blog