Looking to Buy?
Finding a home that makes our client's face light up every time is what we do. By paying attention to the details, really listening and observing, we are able to find that gem. Whether you're relocating to the area, buying your first condo, moving to a bigger house or downsizing, our buyer's guide will take you through all the steps. There are many important questions to consider when purchasing a home. Avoid time-consuming and costly mistakes and put our experience to use.

Click on the tabs underneath "BUYER" above, fill in the form below, or perhaps you're in the gathering information stage and want more information. (Click on the links below.)
Let's get the ball rolling.
The Select Choice 3 "P's" of BUYING
The Select Choice 3 "P's" of BUYING are PREPARATION, PROPERTY SEARCHING and PURCHASING.
Click the links below to find out how to:
Get PREPARED for a mortgage, know your numbers & budget, improve your credit score, or have some fun with our MORTGAGE CALCULATOR.

Get together with your Select Choice REALTOR®, fine tune your wish list.

On-line PROPERTY searches & virtual tours only go so far. It's time to hunt for your home.

Time to PURCHASE! Make an offer and not be overwhelmed by the paperwork, negotiating process or multiple offers.

You're just about there. Know your closing costs before you close.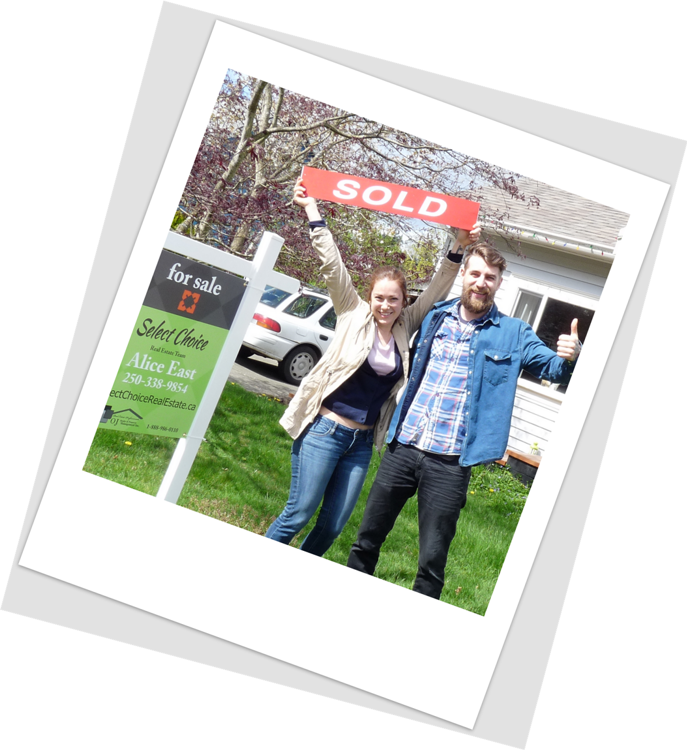 "... She (Alice) was there for us at all times during the whole process of buying our first home. I would definitely recommend her to anyone buying or selling." 

C. Leduc & J. Tinkler-Josephi, Courtenay
"Alice really took the time to listen to our needs and came up with a comprehensive market search of properties...No time was wasted. Knowing viewing time was limited due to travel, Alice was on target all the way. She even helped with after purchase needs - very much appreciated!" C & J Johnson, Victoria
Quick Contact
Select Choice Real Estate Team
O.J. Realty & Property Management, Inc.
962 Shoppers Row
Campbell River,
B.C.
V9W 2C5
Mobile:
250-338-9854
Phone:
250-286-0110
Toll Free:
1-888-986-0110
Email:
team@SelectChoiceRealEstate.ca